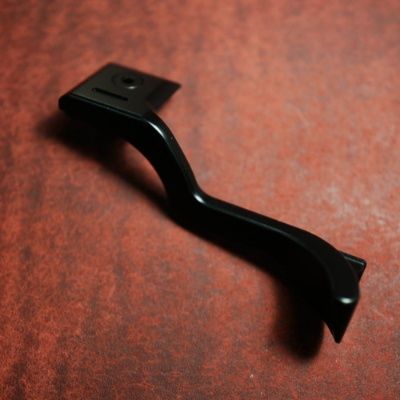 [Match Technical] Thumbs Up EP-SL for Leica SL
It is designed and produced the Thumbs Up EP-SL.
When combined with the forward contoured hand grip of the Leica SL, the Thumbs Up EP-SL will provide an excellent balance and security when handing, composing and shooting. The feeling of the EP-SL is more like a natural extension of the camera and produces a repeatable logical position for your thumb. You will know your hand is in the perfect shooting position each time without inadvertently touching the joystick or zoom thumb wheel.
Thumbs Up EP-SL is machined from solid brass billet, hand polished and finished with baked enamel.
Working period
All of our works is based on Order to made system. And period is depend on the kind of product.
Bags : About 6-12 weeks usually.
Camera cases : About 5-6 weeks usually.
Camera straps & small goods : About 4-6 weeks usually.
Leather skins : About 2-3 weeks usually.
Shipping
We use Fedex shipping service with tracking number. It take about 3-5 business days usually.
Tax & Duty.
Tax or Duty are not included in price. Tax and Duty will be decide by your local custom and it is just on your treat. If you need any other help about this, please contact us before order.
We refuse any type of return because of Tax or Duty, in this case you just can get a refund except all kind of cost.
Return policy.
If there is quality issue or something wrong about order detail, we will do our best to solve the problem and we will accept return and refund. But because it is order to made product, we do not accept return or refund without quality issue.
Payment.
We accept paypal payment. If you need bank transfer, please contact us by email.
Change order detail.
Basically after order, you can't change order detail. Just if we do not start the work about the part that you request, we can arrange it as your request. If you need any help about changing, please let me know. And then we will check it but we just can't sure the order can change as your request.