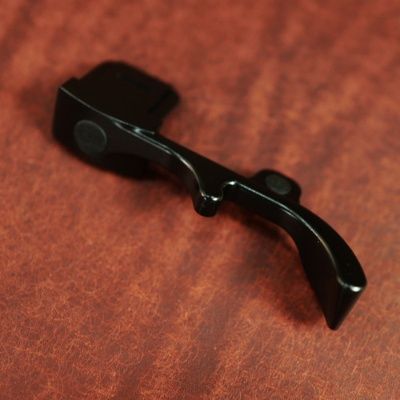 [Match Technical] Thumbs Up EP-1R2 for Sony RX1R2(RX1RII)
Thumbs Up EP-1R2 incorporates the well proven 22 degree beveled EP grip. This thumbs rest profile provides a most efficient shape for holding your Sony camera more securely and more comfortably. The special EP profile substantially reduces grip pressure points and helps reduce camera shake. An additional small thumb rest provides an alternative fit and feel. With the Thumbs Up EP-1R2 your Sony RX1RII will have the feeling of a larger camera but with the advantages of is compact size. The Thumbs Up EP-1R2 provides a natural feeling and sense of security to your compact Sony. You can easily hold your Sony RX1RII securely with one hand without accidentally disturbing the position of the Auto Exposure Compensation dial, Program Thumb Wheel or image Play Button.
Working period
All of our works is based on Order to made system. And period is depend on the kind of product.
Bags : About 6-12 weeks usually.
Camera cases : About 5-6 weeks usually.
Camera straps & small goods : About 4-6 weeks usually.
Leather skins : About 2-3 weeks usually.
Shipping
We use Fedex shipping service with tracking number. It take about 3-5 business days usually.
Tax & Duty.
Tax or Duty are not included in price. Tax and Duty will be decide by your local custom and it is just on your treat. If you need any other help about this, please contact us before order.
We refuse any type of return because of Tax or Duty, in this case you just can get a refund except all kind of cost.
Return policy.
If there is quality issue or something wrong about order detail, we will do our best to solve the problem and we will accept return and refund. But because it is order to made product, we do not accept return or refund without quality issue.
Payment.
We accept paypal payment. If you need bank transfer, please contact us by email.
Change order detail.
Basically after order, you can't change order detail. Just if we do not start the work about the part that you request, we can arrange it as your request. If you need any help about changing, please let me know. And then we will check it but we just can't sure the order can change as your request.