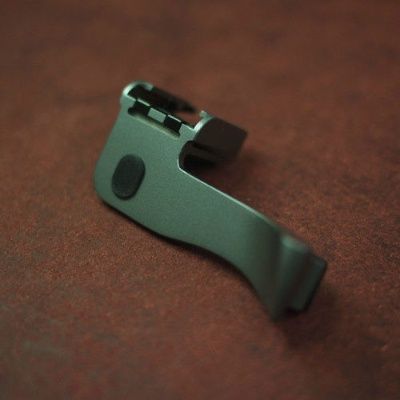 [Match Technical] Thumbs Up CSEP-1S for Leica M2, M3, M4, M6, M7, MP, M8, M9 series, ME, M-A
Leica M2, M3, M4, M6, M7, MP, M8, M9 series, ME, M-A
필름기종은 고무 바킹을 제거하고 장착하셔야 합니다.
Thumbs Up CSEP-1S is new in 2012 and replaces the earlier Thumbs Up CSEP-1 and CS model 1, which are no longer produced.

Thumbs Up CSEP-1S is the same short length as Thumbs Up EP-1S. The thumb rest has a new ergonomic profile (hence the "EP" designation). The thumb rest is angled at 22 degrees, and this new shape distributes the pressure from your thumb more uniformly. This refinement allows you to hold your camera extremely rigidly, yet with great comfort.

Thumbs Up CSEP-1S is CNC machined from solid brass billet, and the Cold Shoe is an integral part of the complete assembly and cannot be removed – no screws, no joints and no glue, all ensure strength and longevity, and guarantee that holding your camera for your compositions can be done in a repeatable way every time. A silicon rubber insert that extends across the full width of the back of the THumbs Up CSEP-1S, provides a cushion between the camera body and your Thumbs Up CSEP-1S. This silicone rubber insert also serves to dampen camera vibration between your hand and the camera.

Thumbs Up CSEP-1S can be locked securely into place on your camera – which prevents it from moving when using external viewfinders. This ensures consistent, repeatable framing. The locking mechanism is concealed beneath the leaf spring, and is easily and quickly operated using the small Allen Hex wrench provided.

Thumbs Up CSEP-1S will fit the following Leica M models: M9, M8-2, M8, M8U, M7, M6, M6 TTL, M4, M3 and M2. For Leica M cameras older than M8, a portion of the Silicone Rubber insert is designed to be removed to make room for the flash sync socket found on these older M Leicas.
Working period
All of our works is based on Order to made system. And period is depend on the kind of product.
Bags : About 6-12 weeks usually.
Camera cases : About 5-6 weeks usually.
Camera straps & small goods : About 4-6 weeks usually.
Leather skins : About 2-3 weeks usually.
Shipping
We use Fedex shipping service with tracking number. It take about 3-5 business days usually.
Tax & Duty.
Tax or Duty are not included in price. Tax and Duty will be decide by your local custom and it is just on your treat. If you need any other help about this, please contact us before order.
We refuse any type of return because of Tax or Duty, in this case you just can get a refund except all kind of cost.
Return policy.
If there is quality issue or something wrong about order detail, we will do our best to solve the problem and we will accept return and refund. But because it is order to made product, we do not accept return or refund without quality issue.
Payment.
We accept paypal payment. If you need bank transfer, please contact us by email.
Change order detail.
Basically after order, you can't change order detail. Just if we do not start the work about the part that you request, we can arrange it as your request. If you need any help about changing, please let me know. And then we will check it but we just can't sure the order can change as your request.